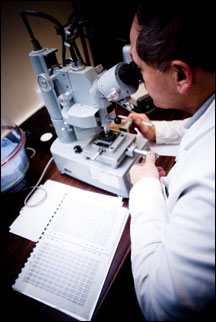 Billing and No Refund Policy.
Our company, Handwriting Experts Inc offers forensic document examination services for various document examiners within the USA.

There is a simple refund policy; No refunds of any kind.

If an examiner provides no communication, no report, and/ or refused to examine the document... we will transfer your funds to another examiner and complete the case. There is no refund, partial refund, or cancellation once the order button is pressed. Our document examination process takes between 5-28 business days depending on the complexity of the case and the speed at which the documents to be examined are delivered to our office (email, FedX, or in person)

We do not offer any guarantee that the resulting "forensic lab results" will be one way or another. Sometimes the signatures are authentic, sometimes they are forged. Because of our role as 'objective experts' it would be unethical to offer such an guarantee, as this might prejudice our examinatin. In all cases, pre-payment is required. Our team of experts get paid for rendering an official forensic opinion, regardless of the outcome of the trial or the opinions of the client. Our company aggressively fights charge-backs and bounced checks from clients who received our service in good faith. All credit cards and payments will be processed by "Handwriting Experts " All chargebacks or bounced checks will be vigorously defended and legal action will be taken for clients that choose not to pay for services rendered.
As soon as a payment is made, then you have "retained an expert". This has tremendous value in any legal case and can lead to settlements, dismissals, and have value. Our experts gets paid for you to utilize their name and reputation as a "designated expert." This is one more reasons we have such a strict no refund policy. The retention of one of our experts can often lead to settlment in a client's favor.
** Legal Disclaimer and Privacy Policy **
Handwriting Experts does not sell, give, or share any collected customer data from this site is not for resale to any third party. We respect your privacy. Furthermore, although we are not attorneys, we hold all legal case material as "Confidential" and do not and will not discuss your case with any outside individual, counsel, company, or court... without a judge authorized subpoena and without your full knowledge and participation. We respect your privacy.