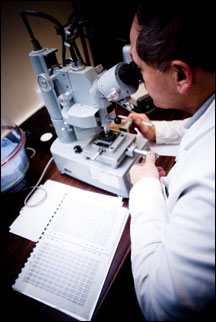 Billing and Refund Policy.
Our company, Handwriting Experts LLC offers accounting and billing services for various document examiners within the USA.

There is a simple refund policy; No refunds of any kind. If an examiner provides no communication, no report, and/ or refused to examine the document... we will transfer your funds to another examiner and complete the case. There is no refund, partial refund, or cancellation once the order button is pressed.

We do not offer any guarantee that the "forensic lab results". will be in favor to our client. Because of our role as 'objective experts' it would be unethical to offer such an guarantee, as this might prejudice our examinatin. In all cases, pre-payment is required. Our team of experts get paid for rendering an official forensic opinion, regardless of the outcome of the trial or the opinions of the client. Our company aggressively fights charge-backs and bounced checks from clients who received our service in good faith. All credit cards and payments to any handwriting expert on this page will be processed by "Handwriting Experts, LLC." All chargebacks or bounced checks will be vigorously defended and legal action will be taken for clients that choose not to pay for services rendered.
As soon as a payment is made, then you have "retained an expert". This has tremendous value in any legal case and can lead to settlements, dismissals, and have value. Our experts gets paid for you to utilize their name and reputation as a "designated expert." This is more reasons we have such a strict no refund policy.
** Legal Disclaimer and Privacy Policy **
Handwriting Services International is a family of website directories containing some of America's most respected forensic document examiners / handwriting experts. Any contact information collected from this site is not for resale to any third party. We respect your privacy. Furthermore, although we are not attorneys, we hold all legal case material as "Confidential" and do not and will not discuss your case with any outside individual, counsel, company, or court... without a judge authorized subpoena and without your full knowledge and participation. We respect your privacy.
Our experts are not attorneys, they are court qualified expert witness with extensive legal experience related to our expertise. If they are working with your attorney (or you are an attorney) they will consult on both strategy and any legal precedents that might apply in your case. If you are not an attorney, we suggest you hire an attorney for all legal advice. They cannot dispense legal advice to non- attorneys. They can only comment on their own experiences as it relates to cases they have personally been involved in regarding handwriting, forgeries, alterned documents, questioned documents, or testifying as an expert witnesses. If you want legal advice, you must consult a licensed attorney in your state.